INFORMATION AND ORDERING
You can order by email or over the telephone. Names can be multi coloured or plain, bright or pastel. There are a multitude of characters and new ones are on the way........
Let us know:
1: The name of the child.
2: What characters you would like.
3: Whether you would like multi coloured letters or a single colour. The letters can be bright or pastel, if you see a colour that you like in one of the name pictures on the site let us know. Letters can have white or coloured polka dots or stars.
4: Whether you would like the picture sent.

It is possible to have the full name & a date across the top or bottom of the picture. There is no extra charge for this.

If you give us an idea of what you like we will then create your picture........a little artistic license must be allowed for as every picture is different and unique.
FRAMES

All the frames are in a pale solid wood

The smaller frame is ¾" (2 cm) wide

The medium & large frames are 2½" (4 cm) wide. 
Payment is in advance, we accept:-
1 All major credit and debit cards, but we do not take American Express

2 Sterling Bank transfer: our bank details are on all invoices

For all queries please telephone or email us.
Bespoke Children's Name Pictures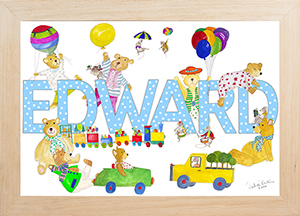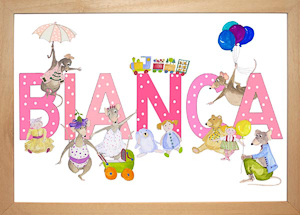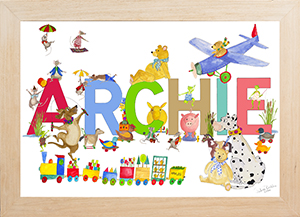 Click on any of the pictures above to see a selection of name pictures including recent commissions.
PRICES 
All name pictures are priced by the size. 

SMALL FRAME 13" x 9½ " (33 x 24.5 cm)
Up to 7 Letters: £96.00 
MEDIUM FRAME 21¾" x 15¾" (55 x 40 cm)
Up to 12 Letters: £159.00 
LARGE FRAME 26" x 19¼" (66 x 49 cm)
Up to 12 Letters: £305.00